Find Your Golf Oasis in the Las Vegas Desert
Who would think that some of the best golf courses in the world would be found in the middle of a desert? Like small oases dotting the sand, the greens in Vegas quench the most avid golfers thirst for a challenging round. From pro-designed courses to world famous putts, a golf enthusiast hasn't hit an ace until they hit one in Vegas.
The Shadow Creek Golf Course
You'll have to make a weekday trip to Vegas if you want to go for nine on this course, unless of course you're some kind of high roller or celebrity. Even with the nation's highest green fee at five hundred bucks a pop, this course is strictly for the Vegas elite on the weekends. That's when the likes of Michael Jordan rolls his cart around the best ranked course in Las Vegas.
Guests of any of the MGM resorts are welcome to make reservations at Shadow Creek Monday thru Thursday. We don't even have to tell you where it's at, since your $500 also buys you a limo ride to the green and your own caddy.
Las Vegas Paiute Golf Resort
Golf legend Pete Dye put a lot of thought into the design of all 3 – 18 hold courses at the Paiute Resort. Not only do you get incredible 360 degree views of the Vegas desert, you get them at the most budget friendly courses in town. There are discounts and specials for everyone, making it entirely possible to shoot 18 in Vegas for under $100.
You will find Paiute Golf Course 25 minutes north of the strip, right at the base of the Spring Mountains. Make your reservation for after 3 P.M. when the sun is not so bright and the prices drop by up to thirty bucks.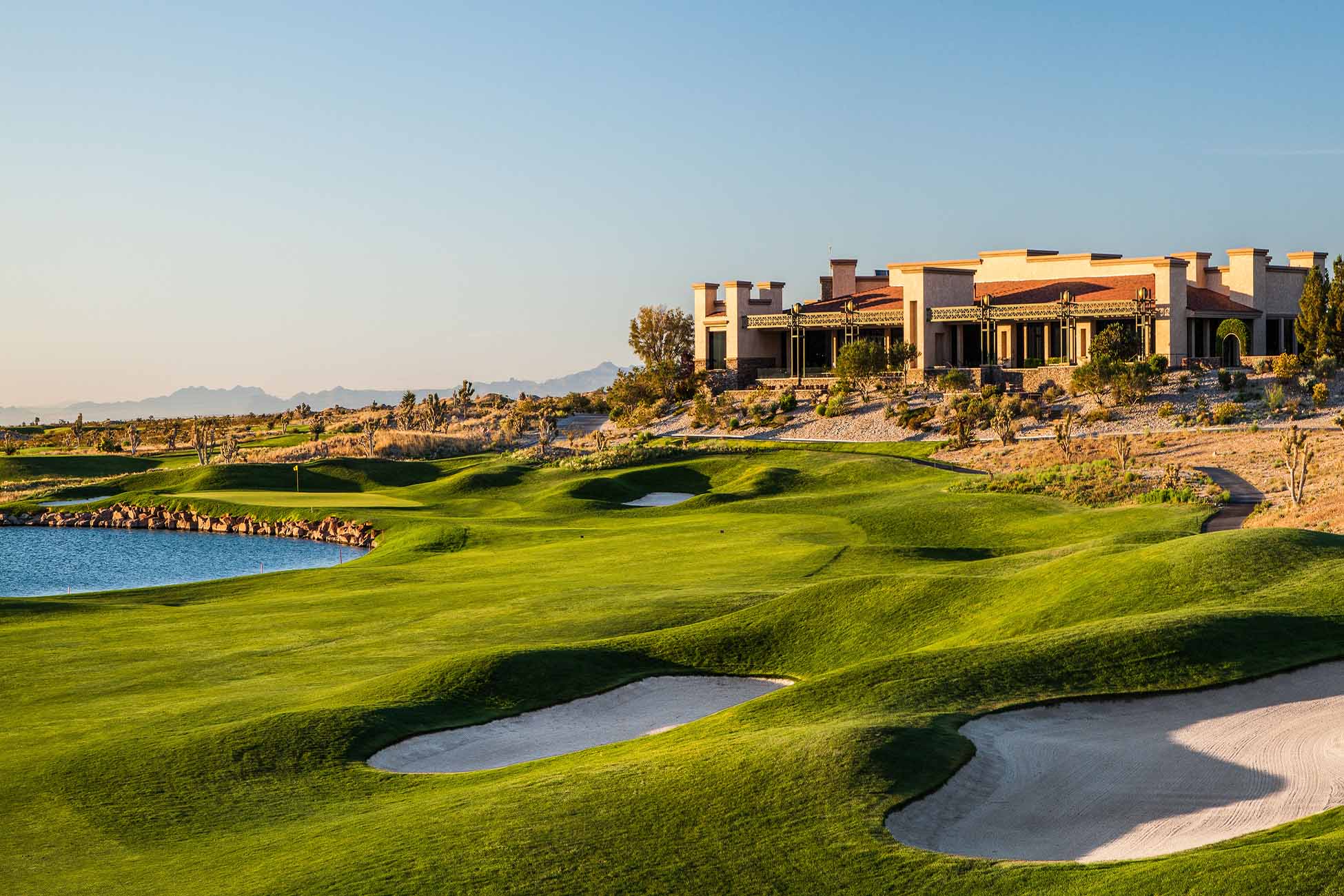 Royal Links
The Royal Links is the golf aficionado's dream, with holes that are recreations of some of the most famous of the British Open rotation. Not only can you try your own golf hand at "Hell Bunker" but you can take your best shot at beating the Tiger Woods record of 67. Even better, an attractive "Par Mate" can accompany you, give you tips and serve as your hostess with the mostest as you make your way around the holes.
Royal Links is just a 25 minute drive from downtown Vegas. Rates start at $99, and you can find discounts online to bring your tee time price down.
TPC Las Vegas
If you want to be a pro for 18 holes, then this PGA Tour course is right up your alley. Formerly known as TPC Canyons, these are stadium courses, designed to be challenging in order to host major tournaments. This is not a course for the casual player, but rather for those who reckon themselves to be the next Jack Nicklaus. Be prepared to be humbled as you make your way through the 18 desert holes.
Located just outside of Vegas in nearby Summerlin this professional style course will set you back over $200 unless you tee off after 3 when the prices goes down to $130.